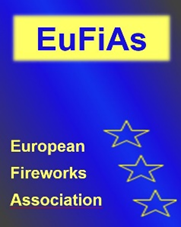 What is EUFIAS?
EuFiAs, the European Fireworks Association, coordinate and represent the interests of the European fireworks industry, especially those of its members, within the European Community.
EuFiAs concerns itself mainly with European and international laws and regulations on fireworks but also theatrical and other pyrotechnic articles.
EuFiAs support the business by providing fact-and science-based solutions for the complex questions at European level.
EuFiAs is acknowledged by the European Commission, Parliament and Council as the representative for the fireworks industry in Europe.
EuFiAs experts work closely together with authorities both on European and national levels and participate in technical committees, standardisation and partner expert groups.